We're always keen to partner with like-minded health and fitness retailers looking to stock healthy and natural vegan products.
We've established a valued network of retailers across our hometown of Northampton and are always looking to gain new partners, both locally and further afield.
So what can you expect to gain by partnering with us? Here's just a few of the benefits:
An exciting, vibrant, youth-orientated brand, that's vegan through and through. Our business is run by vegans for vegans, and we're committed to only ever producing vegan products. This gives your customers piece of mind that we're a brand they can trust.
A popular brand – we're proud to have gained a loyal following, with a five-star rating on Trustpilot, and strong reviews across Google, Facebook and Amazon.
High quality products. Our shakes contain no artificial flavours, colours, sweeteners, or preservatives. What's more, they're all manufactured in the UK, and in line with ISO 9001, ISO 22000, GMP (Good Manufacturing Practice), and HACCP (Hazard Analysis and Critical Control Point) standards. And we've achieved a five-star Food Hygiene rating.
An ever-increasing portfolio of products, with a clear pipeline of new products planned for future release.
Low minimum order quantities.
Strong profit margins on all products.
A dedicated account manager, with direct lines of communication at all times.
Promotional items (subject to agreement) to help drive sales.
To discuss how your business could work with Nasty Vegan, contact us at trade@nastyvegan.co.uk and we'll get back to you within 24 hours.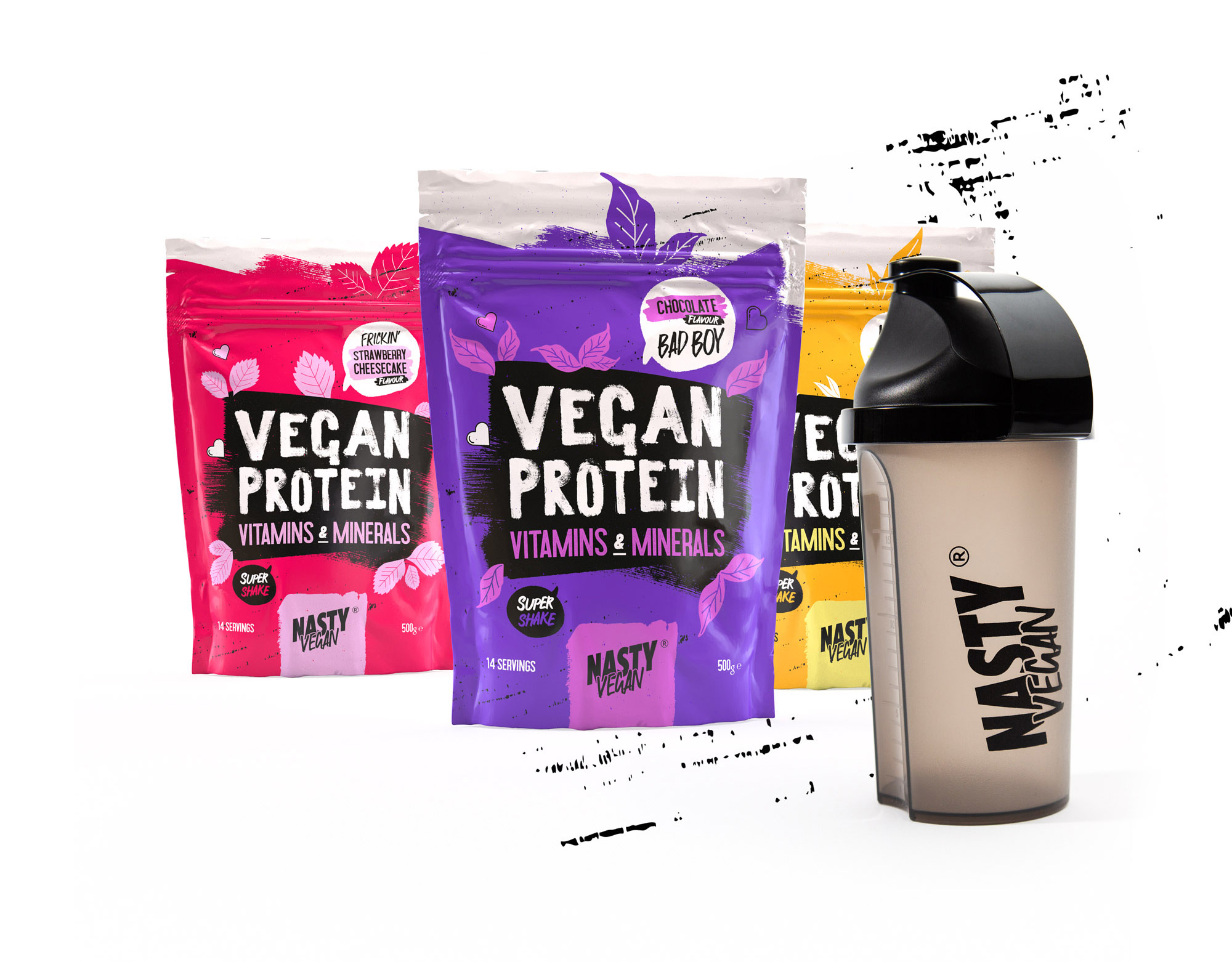 CUSTOMERS LOVE NASTY
Here are just some of the fantastic comments from customers. To see more, visit our Trustpilot page.
Amy Wolstencroft
20/11/2021
Delicious vegan shakes We tried the strawberry cheesecake flavour and it tasted delicious, it makes a great shake but is great for adding to pancakes and things too! Can't wait to try the other flavours!
Tasted fantastic Tasted fantastic. Choccy and vanilla my fav. Great tasting and texture!
Thick and delicious Really impressed with these protein shakes! Handy little pouches that you simply add plant milk or water to. They thickened up very well in seconds and tasted amazing - chocolate flavour that was very chocolatey! I used while out and about for breakfast and kept me going until lunchtime. Would absolutely use again and look forward to trying all the flavours this friendly business have to offer!
Ashling Curran
27/10/2021
Delicious and nutritious! Delicious and nutritious protein powder! Of course I tried the chocolate one - I LOVED it!! <3 I made a chocolate and berries protein smoothie/milkshake!
Lovely independent company Very lovely guys. Got strawberry cheesecake, vanilla and a chocolate sample. Turns out chocolate is the best. Vanilla goes best in oats. Strawberry is best with a banana added to cut through the slight artificial flavour. None of the super grainy texture a lot of vegan protein powders have. Cannot taste any of the added vitamins (none of that funky b vitamin smell either) The samples are really handy for travel! Will definitely be re-ordering but this time a couple of chocolate
Jaime-Ann Potter
26/10/2021
Love the new flavours! I have tried the chocolate shake before and loved it so I was really excited to try the new flavours. I loved the new packaging as well, it really is eye catching and modern. The shakes blend well,I use almond milk for mine. They aren't grainy at all. My favourite is definitely the Strawberry Cheesecake, I like the others too but this was stand out for me. The products are not full of horrible additives and are gluten & Soy free. Best vegan protein powder.
This protein powder is spot on I love… This protein powder is spot on I love it! I am quite fussy and it's hard to find a protein powder I actually get enjoyment out of but this one really ticks all the boxes! Liked it so much I mixed it into my alpro unsweetened milk and yoghurt with a bit of sweetener and it really works! Would be good to try the different flavours next thanks guys!
Georgia Rannard
26/10/2021
Strawberry cheesecake protein Can you really go wrong with strawberry 🍓 cheesecake , the flavour is on point and a great vegan protein packed with vitamins and minerals which is a plus , super smooth and not grainy , tastes like a dream 😋
Fabulous new flavours Fabulous new flavours, especially love the vanilla. I've been waiting for so long for these to come back into stock, really lovely with almond milk. Will definitely be ordering again.
Amazing protein Amazing protein. The product is very high quality and was great to find that it's all vegan, gluten-free and non-GMO. One of the best vegan protein powders that I have tried! Protein content is superb, especially with the fact that there are so many essential vitamins and minerals infused within the blend.